Special Facilities
Publication Date:
Last updated:2019-07-18
View count:2246
Establishment of "Witness Identifying Wall"
In order to protect the privacy and safety of informant and secret witness, this office established an Identifying room in the Investigation Room 1. The "reflection glass identifying wall' is installed to partition the inside from outside. The outer shield of the identifying wall is the opacity screen. Inside the identifying room high illumination lighting equipment and ultra sensitive microphone are installed. On the back wall there are standard markings of height After the activation of indoor lighting equipment, the suspicious being identified inside the room cannot see the situation outside the room but the victim outside the room can observe clearly all situations in the room. The sound in the room is transmitted to outside via the ultra sensitive microphone that is sufficient for the personnel outside the room to combine the outer appearance of the party being identified with the voice to conduct identifying work and this can increase the accuracy of identifying work.
Installation of "Conversation Room, Lounge for the Victims from Sex Abuse Crime" and "Dual Direction TV System"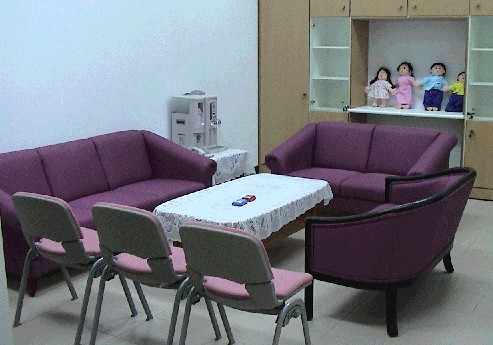 In order to strengthen the protection on the victims from sex abuse crimes, the "conversation room" and "lounge" are established on the 4th floor of this office. Inside there are sofa and chair sets that are mainly in warm color so that the victims can describe the course of injury in a moderate atmosphere. Also assistant supplies, such as assistant toy, shall be placed so as to cope with the questioning on juvenile victims, so that they can assist the prosecutor to investigate on the sexual harassment cases. In addition, in order to avoid the victims facing the accused and causing second time's injury, this office adopts "dual direction TV system". The color TV, hidden high-resolution color camera and ultra sensitive microphone are installed in the above mentioned conversation room. Also color TV, camera, rotating and lens controller, automatic channel selector, large and small screen treatment equipment, hidden type ultra-sensitive microphone are installed in the Investigation Room 1 on the 3rd floor. The prosecutor can operate the above equipment appropriately in the Investigation Room 1 and investigation can be conducted via TV screen. The victims can then accept questioning and exchange questions through the dual direction TV system in the conversation room and the victims do not have to face the accused who is accepting questioning in the Investigation Room 1 so that the purpose of question exchange can be achieved and the second time's injury to the victims can be avoided.
Installation of "Distance Interrogation System"
To reduce the risks on escapement of the prisoner and social costs, lighten the personnel burden in the traditional interrogation, the "Distance Interrogation System" was installed in the Investigation Room 3, on the 3rd floor. This facility allows prosecutors to interrogate detention or witness using ADSL connection network which connecting prosecutors offices, courts, prisons and detention houses.